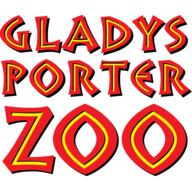 Accredited member of the Association of Zoos and Aquariums (AZA) since 1978.
The Gladys Porter Zoo is an oasis nestled in the center of Brownsville, Texas. With 31 acres of lush tropical plants and some 1,600 animals, the Gladys Porter Zoo is known for its successes in breeding endangered species of wildlife.
About Us
The Gladys Porter Zoo is a visitor-oriented zoological and botanical park, dedicated to the preservation of nature through education, conservation, healthy outdoor recreation and research.
The park is divided into four zoo geographic areas: Africa, Asia, Tropical America and Indo-Australia. There is also a Herpetarium, Aquarium, Tropical America Free-flight Aviary, Macaw Canyon, Bear Grottos and Komodo dragon exhibit. Small World features a nursery and an animal contact yard where children can touch and interact with domesticated animals.
WORLD CLASS FACILITIES
In a mere ¾ mile trek, a visitor to the Gladys Porter Zoo will encounter a diverse ensemble of 377 species of animals and 225 species of plants. The Gladys Porter Zoo opened to the public on September 3, 1971. The facility was completely planned, built, stocked, equipped and then given to the City of Brownsville by the Earl C. Sams Foundation. (Learn More)

News
Big Savings at Gladys Porter Zoo Discount Weekends! [...]